The first season of the Gfinity Elite Series in Australia has come to an end with Order Melbourne serving up three hot and fresh wins as well as a deserved Club Championship.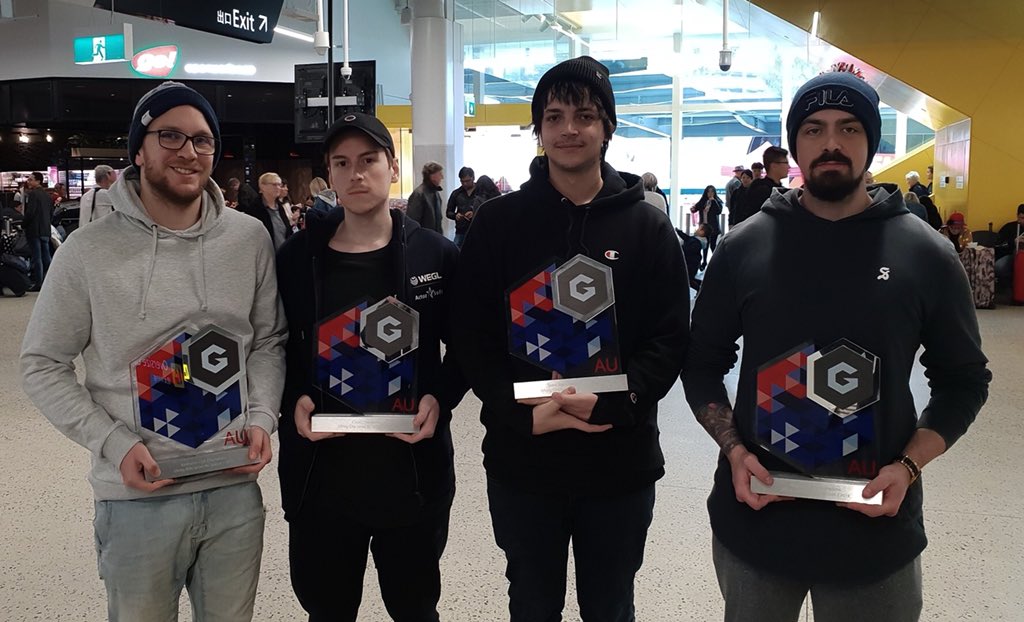 6 teams fought valiantly over 7 weeks (June 2 – July 15)
Order proved once again how Melbourne reigns supreme (no bias), by dishing out skilled plays across all three games.
The Grand Finals were held on July 14 – 15 at the HOYTS esports arena in Sydney, with games broadcasted in Hoyts arenas all around Australia, and streamed on Twitch. Rocket League was even shown on One HD!
Here's how it went down.
Counter Strike 
Order blew up the Sydney Chiefs, winning 3 – 0.
Detailed scores:
Order
16 – Train
16 – Cache
16 – nuke
Chiefs
3 – Train
14 – Cache
10 – nuke
Roster
S = Subs
D = Drafted
Check out this nail biting moment from Sydney Chiefs @dizzyaus (make sure you listen to the very end):
WHAT @SydneyChiefs @dizzyaus you are a MACHINE! https://t.co/Q0T5jZ9Vih pic.twitter.com/u2R1FgqUul

— Gfinity Australia (@GfinityAU) July 14, 2018
And check out this tense Championship winning moment!
So close from @SydneyChiefs @justap0c but it's Melbourne @ORDER_army who take the round, take the map, take the Championship! pic.twitter.com/Qj9qRGcU06

— Gfinity Australia (@GfinityAU) July 14, 2018
Rocket League
Order drove another win home against Avant Gaming and scored 4 – 1
Check out Express' smooth strike
You know they can taste victory as Melbourne @ORDER_army show no mercy as they sink two goals rapidly in the first min yet again, they won't no doubt as to who should take out these finals!https://t.co/Q0T5jZ9Vih pic.twitter.com/ERu18vTllL

— Gfinity Australia (@GfinityAU) July 15, 2018
Roster:
Express
Dumbo
Shadey
aoe_emp
Golde
Enigma
Street Fighter V
Order fought hard and smashed Perth Ground Zero in the finals 4 – 1
Grand Final Roster:
Check out ROF's winning the series with his slick Birdie moves!
Perth @GroundZeroOCE's @JAM_Dooky was facing his demons in Melbourne @ORDER_army's @mgcROF and even though he fought hard, it was too much for the west coast side and Melbourne claimed the game and the series! pic.twitter.com/saosiYW4g5

— Gfinity Australia (@GfinityAU) July 15, 2018
Fairly obviously, given the results, Order also took away the Club Championship! Well done boys, you've made Melbourne and I very proud.
Wanna watch more? Check out the full videos here.
Aim for the stars,
Luna