So we all like gaming, and we all like giving, right….. RIGHT?
For those who want to give back to the community – doing it with a fellow group of gamers makes sense. Our demographic is often seen as selfish and lazy in the eyes of the media –  banding together in a visible way to give back to the community shows that we can smash goals IRL too!
Recently Ninja held a charity stream on behalf of GuardianCon for the St Jude's Children Hospital. He set a lot of really fun charity goals an he raised over $160k!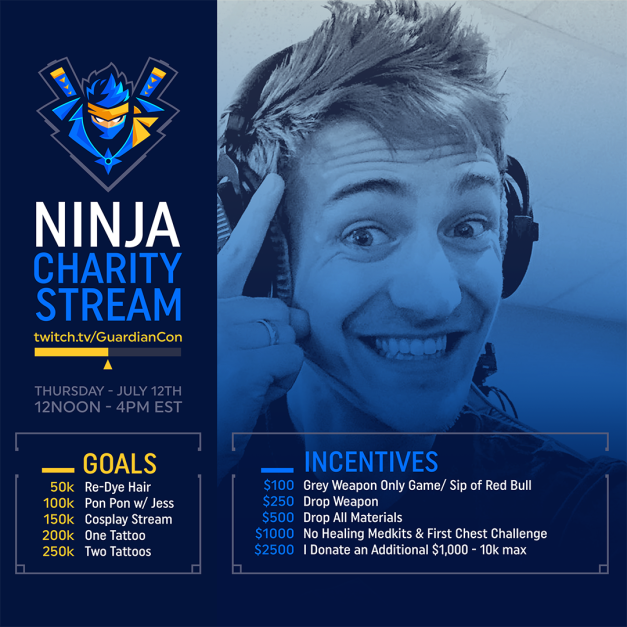 But none of us are Ninja (if you are Ninja, please say hello).
We don't have his level of reach and there are so many types of charities out there. It can be rather overwhelming. How do you choose which ones to support, and what tools do you need to help this process?
I've spoken to some streamers who have supported charities and they have given me a lot of insight into the whole process.
I've also written about some other fundraising options, so even if you don't stream you can still get involved!
It was a community tragedy that inspired Sam's first charity stream.
"A good friend of mine and his family had just lost all their belongings in a house fire. He suffered burns saving his family and ended up in a coma.
His friend's partner posted to the gaming community Sam runs (Bantz Gaming Community), letting the community know what had happened.
"I was honestly heartbroken for him so I decided I'd run charity streams for a week until I hit a goal of $500. I let people know in the gaming community and through my social media. It would be the best way to raise the money because although it's small, my stream community is insanely generous and I knew some of the gaming community members would get involved too."
The response was more than Sam could have hoped for.
"By the end of the next stream we had raised $1600 for them! It was all done through Streamelements donations and processed through Paypal.
"It's awesome that a small streamer like myself has the platform to support people in need, even if it's not some massive record-breaking fundraiser – it's definitely worthwhile and it's so easy to setup!"
The news only gets even better!
"My mate has woken up from his coma. His partner told me he couldn't stop smiling after he heard what our community did for him!"
Don't forget to check out Elyxirs twitch page here.
RubeePlays' first charity stream was for the RSPCA, as part of Cupcake Day last year.
"I was already into baking streams so it blew my mind to see that it could be more than just that. We raised $1.3k, and I was invited to see firsthand how that makes a difference – they introduced me to a rescue dog who had found his new family after a life of suffering."
That's when she knew that if there was a possibility to help in anyway, she would.
"I have taken part in many events since then."
She says that highlights of the charity events are not always the money raised.
"The most important part is people coming together, people being made aware of a need in the world, and wanting to help.
"Sometimes we can get so stuck in our personal bubbles, it's necessary to have someone open our eyes and see that there are people who are reaching out and people who don't have the ability to."
"We have that power to take their hand and offer support, be it emotionally or financially – that's a decision we all can make.
"All in all none of this could have been done without the community. I just host it and make an idiot of myself, it's the people who donate and share who make this what it is."
Delicious food and donating money to animals in need? Yes please!
Be sure to give Rubee's Twitch a like here.
Other ways to get involved
They work in conjunction with 'The Red Cross' to help gamers to improve the blood donation statistics. If gamers can do anything, it's grouping together to improve stats!
Check out their FB page to see when they are doing a drive in your area.
Not just for streamers! You can create your own fundraising page and share it.
A tool for streamers to streamline connecting their stream with charities.
A distribution platform selling games, ebooks, software, and other digital content where you can set the amount of money you want to pay and proceeds go to various charities!
For me personally, I've signed up for the Melbourne Drop and have joined forces with Aimee Emerald. She is working with a charity called 'The Wildlife Trusts', where the proceeds go towards keeping animals and land thriving. If you would like to get involved contact her here.
Saturday August 18th I'll be doing a charity stream on behalf of DownUnderTeam via Every Day Hero. Proceeds will be supporting beyondblue (an awesome organisation that helps with mental health!).
I'd love it if you could join me any time during 12pm – 4pm AEST on August 18!
Well fellow gamers, I hope you find this information usual. Go out there and fight the good fight!
SPECIAL ANNOUNCEMENT
Tribefire is building a fan engagement platform for streamers, that tracks your fans across Twitch, Discord and Twitter. They earn points, currency and level up for doing important things like retweeting, sharing, chatting, cheering etc. It's the perfect way to gamify your community. Sign up for the free Beta here!
Aim for the stars,
Luna
Check out Luna's Tribefire store for awesome pixel art and space inspired merch.